Latest Issue - Issue 258, Volume 43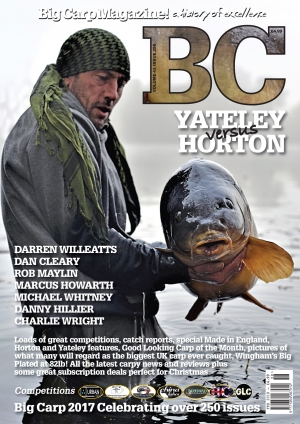 Yateley versus Horton

We have something a little different this month, something I'm sure you will enjoy – two iconic carp waters, both containing a new stock of huge, proper English monsters. Both have had books written about them, and since that time, many, if not all of the original stock that originally made the lakes famous have now passed away.

Horton Church Lake inherited the Fox Pool stock when the lake was netted by Ian Welsh's Leisure Sport Angling – Jack The Net Ripper, Shoulders, The Parrot and Co. made Horton famous overnight, along with those who took advantage of the stocking such as Dave Lane, Chilly, Keith Jenkins and others. They became household names after catching these legendary carp in numbers. The Yateley Complex stock was allowed to die out naturally. Bazil, Heather, Jumbo and co. gradually died off, and the Car Park's Big Orange was the last of these legends, I believe.

Both these complexes have been restocked over a period of years by the controlling bodies and now contain a new stock of monster carp. We have had quite a few Horton articles in BC over the past decade, so many of the lake's big'uns are well known to us. However, Yateley has gone very quiet compared to the old Bazil days when Terry Hearn and I fished together and wrote regularly about the lakes every month in BC.

Today's North Lake, under the new owner Martin Gardner, contains a big head of 30-plus mirrors and commons, a bit different to my days pursuing its old stock of eight carp. Now there are quite a few huge upper forty commons topped by a 50-plus. There are upper forties too in the Split, Car Park and Nursery Lakes and carp to 50-plus in Farnham Angling's Match Lake. In this issue, we have just a taster of what these lakes hold now.

In 2018, I will be publishing books that will showcase the whole story… A History Of Yateley Volume 3 will have chapters featuring ALL the lakes and the current stock, and it's going to blow your mind!! Beyond The Chronicles will feature ALL the new stock in Horton and other venues controlled by the new owners, RK Leisure.

Also this month, we have the story of my return to Lake Chira in November with David Beacham, which not only contains some great shots of what Max and I caught but some very big fish that David has caught from some of the other lakes on the island, previously kept a closely guarded secret.

There are loads of great competitions, catch reports, special Made in England Horton and Yateley features, Good Looking Carp of the Month, pictures of what many will regard as the biggest UK carp ever caught, Wingham's Big Plated at 82lb, all the latest carpy news and reviews plus some great subscription deals perfect for Christmas.

Happy New Year to all our readers.

I will speak to you again in 2018.


This Issues Contents
Competitions

SIX great competitions for you this month:

Chef de Ville
Bossard
China Lakes
Bountyhunter
Urban Baits
Big Carp

News & Reviews

Shockleader

What's happening in the carp scene



Tac-Tec

Latest product reviews

The Boot Butler
Storm
EDZ

Subscriptions

Check out our incredible offers

TWO PLATINUM OFFERS
The Ultimate Subby worth almost £600 for just £199

GOLD OFFER
Urban Baits' offer worth £195 for just £80

SILVER OFFER
Choose between Dave Mallin Products' offer worth £168.50
or
one of Bountyhunter Publications' superb carp books for just £60

BRONZE OFFER
Choose between 14 issues of Big Carp for the price of 12 or 12 issues of Big Carp plus an item of clothing for just £55

Exclusive

Horton Church Lake

by Darren Willeatts

Chira

by Rob Maylin

Historic Horton

by Daniel Cleary

A Little North Lake Tale

by Marcus Howarth

Kinky

by Michael Whitney

Blown Out of the Water

by Charlie Wright

Car Park Chunks

by Danny Hillier

Big Carp Promotions

Carpdell Fishery
Oak Lakes Fishery
Lake Fishabil
UK Bait Company

Plus

Made in England - Yateley
Made in England - Horton
Good Looking Carp – November