Latest Issue - Issue 257, Volume 43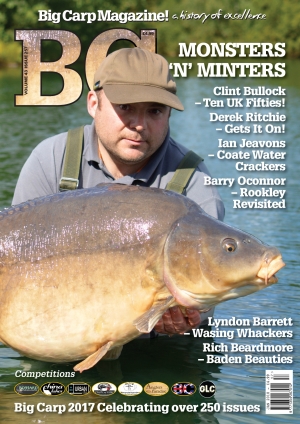 Monsters 'n' Minters

Just like it says on the tin, this month's issue is packed with what Big Carp does best – huge carp and classic English thoroughbreds. They don't come much bigger than the ones from our first two writers, Clint Bullock and Lyndon Barrett. Clint has been smashing it up at Welly this year, catching a load of monsters topped by six over 50lbs, bringing his total of UK 50s to ten!! That is mental! Who would have thought years ago that there would even be this number of 50s out there? I remember the first Welly article we had in BC. It was written by Zeth Christie, who I had met that year over at Swan Valley. Zeth told me he had caught about ten 30s that year, which for 20 years ago was pretty impressive. These fish are the same ones now reaching almost 60lb!! The full story of Clint's history making season can be found in this issue.

Lyndon has written before in BC when he caught an upper forty linear, and this time he's back with the full account of his Wasing campaign. They are true UK monsters these, with commons to 46lb and mirrors to 56lb!!

Next up, we have Big Carp regulars and no strangers to mahoosive carp, father and son fishing partners Barry and Ben Oconnor with the first of two incredible accounts of monster carp by the lorry load. This month it's Rookley, and coming soon, the slaughter at The Dell. No one can take it away from them; these guys know how to catch them wherever they go.

Now for something a bit special… a water containing some very special monster carp that is rarely written about – Coate Water!! This big, off the radar, south west park lake is only talked about in whispers these days, as its low stock residents are highly sought after prizes. Ian Jeavons lifts the lid for us exclusively in this month's BC – proper history fish at the highest level.

Derek Richie is also back with his monthly diary this month, and he has been haulin' both in the UK and abroad, as you would expect. There are still a few copies of Derek's book available, so if you haven't read it, you really should. It's a 50-year historic record from one the true good guys in carp fishing. Ask the missus to get you a copy for Christmas – I promise you it's a great read.

Also this month, Minters from Baden Hall and Weybread, the results of the Best Looking Carp of the year completion, the holiday at Bossard and the Gowi bait boat winners… But don't worry if you didn't win – we have seven great competitions this month too, along with all the latest carpy news and reviews, some great subscription deals for this Christmas on page.... It's certainly worth getting a subby now, as the next few issues are EPIC – Yateley Reborn, River Carping, Off The Beaten Track, Beauties and Beasts and another RK Special!! There's something for everyone.

Finally, if you have been living on another planet for the past two months, you may not have seen the first two issues of our new FREE online mag, Free Line. See them both at www.freelinemagazine.com NOW!!


This Issues Contents
Competitions

SEVEN great competitions for you this month:

Bossard
Anglers Paradise
Chef de Ville
Urban Baits
China Lakes
Big Carp
Bountyhunter

News & Reviews

Shockleader

What's happening in the carp scene


Tac-Tec

Subscriptions

Check out our incredible offers


TWO PLATINUM OFFERS
The Ultimate Subby worth almost £600 for just £199

GOLD OFFER
Urban Baits' offer worth £195 for just £80

SILVER OFFER
Choose between Dave Mallin Products' offer worth £168.50
or
one of Bountyhunter Publications' superb carp books for just £60

BRONZE OFFER
Choose between 14 issues of Big Carp for the price of 12 or 12 issues of Big Carp plus an item of clothing for just £55

Exclusive

250th Issue

Weybread Minters

by AJ Tharratt

A Year To Remember

by Clint Bullock

Tale of Two Lakes

by Derek Ritchie

Coate Water

by Ian Jeavons

Baden Hall Beauties

by Rich Beardmore

The Wasing Years

by Lyndon Barrett

Rookley Revisited

by Barry Oconnor

Big Carp Promotions

Northern Banx
Lake Fishabil
Carpdell Fishery
Oak Lakes Fishery
UK Bait Company

Plus

Made in England
Good Looking Carp – October
Ribière Catch Report