Latest Issue - Issue 261, Volume 44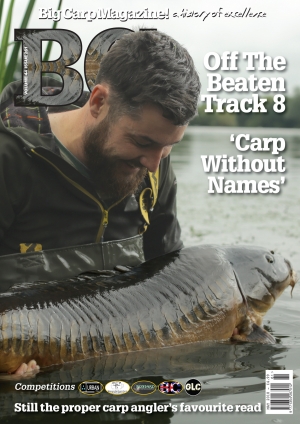 Off The Beaten Track 8

The Adrenaline Rush!

Here it is, folks!!

The one that you have been waiting for…

POACHING, GUESTING, UNUSUAL VENUES, SECRET CARPING, UNDER THE RADAR, COVERT OPERATIONS, UNDER COVER OF DARKNESS, NATURE RESERVES, PHEASANT FARMS, MANOR HOUSES, UNDISCLOSED POOLS, NEVER BEEN CAUGHT, CARP WITH NO NAMES, UNFISHED LAKES, EVERY BIT OF BLUE, QUIET CARPING, MYTHICAL MONSTERS, THE OLD ESTATE LAKE, THE GOLF COURSE LAKE, SHADOWS BENEATH THE WEEDBEDS, THE STORIES NEVER MEANT TO BE TOLD, TALES OF THE UNEXPECTED.

OTBT8 –THE ADRENALINE RUSH!!

Once again the first thing I must do is thank everyone for their stories. Without these we would have no mag! What makes these stories different from the ones we usually publish are the venues: No comfy swims, no paths at all in most cases, no neatly trimmed-back trees, just an overgrown tangle of branches and brambles in most cases. The sheer effort involved in consistently doing this type of fishing is beyond the comprehension of most anglers, yet I am meeting and chatting to more and more that have moved to the dark side. Why? Simple… the rewards are incredible, the adrenaline rush immense when one of these uncaught beasts is finally tamed, and there at your feet lies the holy grail of carp fishing, an unnamed, never before caught carp, a truly wild beast, a warrior that until now has never seen an angler.

Every time I do one of these magazines, I wonder if it will be the last. I wonder if people will come forward with their stories again, or will these be the last? Yet here we are, the eighth Off The Beaten Track issue, and let me tell you that I'm pretty sure there will be another. Quite a few people told me they will do a piece, but they were mid-campaign, still with unfinished business, but when they have finished I would get the story. Fingers crossed, because we are talking very very big carp in a couple of cases, never before caught leviathans of the deep.

Last but not least, on a technical theme, Rod Hutchinson's Ken Beech takes a look at 'Watercraft' for the forthcoming season with 'Effective Angling' to follow next month. Add to this lot your regular bulletin of carpy news, carp tackle reviews, four great competitions to win holidays at Lake Bossard, Urban Bait, Bountyhunter Carp Books and Big Carp Subbies.

Speaking of subbies – isn't it about time you took one out for as little as £31.50? See pages 50 and 51 for details. And don't forget to check out our free on-line sister magazine Free Line this month too.

Finally another great project came to an end this month with the publication of the next 'A History of Yateley' volumes.


This Issues Contents
Competitions

FOUR great competitions for you this month:

Urban Baits
Bountyhunter
Big Carp
Bossard

News & Reviews

Shockleader

What's happening in the carp scene

Tac-Tec

Subscriptions

Check out our incredible offers

TWO PLATINUM OFFERS The Ultimate Subby worth almost £600 for just £199

GOLD OFFER
Urban Baits' offer worth £195 for just £80

SILVER OFFER
Choose between Dave Mallin Products' offer worth £168.50
or
one of Bountyhunter Publications' superb carp books for just £60

BRONZE OFFER
Choose between 14 issues of Big Carp for the price of 12 or 12 issues of Big Carp plus an item of clothing for just £55

Exclusive

Off The Beaten Track

Treasures of The New Forest Part 2

by Connor Bruton

From Scouse Banks to Steel Banks

by John Lam

Forbidden Routes

by Jack Thompson

River Tales

by Adam Honeysett

My Secret Carp

by Mike Dancer

Forbidden Depths

by Wayne Iszatt

Private Waters

by Kurtis Burton

Unfished Waters

by Steve Edwards

Haunted Mere

by Jay Russell

Big Carp Promotions

Oak Lakes Fishery
Lake Fishabil
UK Bait Company
Horcott Lakes and QC Baits

Plus

Made In England
Good Looking Carp – February

Technical

Watercraft

by Ken Beech