Latest Issue - Issue 268, Volume 45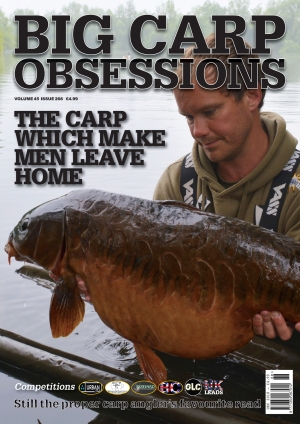 The Obsessions Issue

What makes a man become obsessed with a carp, so much so that all he can think about is that fish? Rain or shine, summer and winter, he leaves his loved ones at home to venture once again to the banks of his chosen lake, the battlefield, where he hopes upon hope that this will be the session where his nemesis, his obsession falls at his feet. As carp anglers, we have all felt the power; I know I have. It may be certain fish or even any member of the A-team that drives us on, but it's a very strong feeling that we carp anglers cannot deny. It's ruined relationships, caused marriages to break up and arguments in households for decades. Books have been named after it, and I even had a bait range called the 'Obsession' back in the 1980s for those of you old enough to remember it!

I have devoted this issue to some of the carp and carp waters that over the years have caused us to be obsessed. Although many of the old legendary carp have long since departed some of these waters, there are still many that make a man leave home selfishly in pursuit of the ultimate prize. To be honest, I could have chosen 50 lakes and as many sought after prizes, far too many for one publication, so here for you is just a cross section of Big Carp Obsessions.

Top of the tree, and a fish that can demand years of dedication, is The Burghfield Common, caught by only a few but desired by many, and here's a recent capture. Adrian Wintle takes us back to the banks of Wraysbury for his recent campaign. Although obsessions like Mary and her mates have long gone, this historic water still holds its obsessions. Dinton Pastures is home to a whole host of scaly leviathans, its regulars all seeking those special carp, and here for your pleasure are some of its finest. The Horton/Kingsmead complex holds far too many for one issue, but Mike Bridges tells us of his monster, the Big Sutton. What about the Caravan Park Linear, regarded by many to have taken the Black Mirror's crown as best looking carp in the land? Essex has many great carp and carp waters, but surely the Manor must be included? Adam Honeysett tells us of his encounter with No Name.

Our cover star Wayne Iszatt takes us to another county full of obsessions, Cambridgeshire, home to some amazing creatures over the years. Ryan McGregor joins Wayne to highlight some of this county's finest. Yateley has a history of obsessions, all Blackwater Valley history fish, and in this issue, Jake Lund tells us about a month he will never forget. Bundy's Pit is still high up on the obsession list, and Lee Griffin has been catching a few this year. A mag like this would not be complete without the London Reservoirs at Walthamstow with decades of dedicated carpers heading for its banks. John Barnes fulfilled his dream just lately, and he only fishes Saturdays!! Plus we have the second installment of one man's crusade to conquer the London Docks and uncover its highly prized secrets: Bobby Coote continues his series to track down our capital's finest. Finally, and just in case you thought it was only we guys who get obsessed, April Chiverton proves that the girls are just as obsessed as us… maybe even more so!

Also this month, there's all the carpy gossip and news, reviews of some of the latest gear, catch reports and Made In England, the final of Good Looking Carp of the year and a few competitions thrown in for good measure – all for less than a fiver!

Christmas is coming, so surely it's time to get a subscription?

See you next month for a special Icons Old School issue, followed the month after by an Off The Beaten Track Special!


This Issues Contents
Competitions

Competitions

Five great competitions for you this month:

Urban Baits
UK Leads
Bossard
Big Carp
Bountyhunter

News & Reviews

Shockleader

What's happening in the carp scene

Tac-Tec

Latest product reviews

Bait-Tech
Storm
Nutrabaits
Sunpak
Rod Hutchinson

Subscriptions

Check out our incredible offers

2 x PLATINUM OFFERS The Ultimate Subby worth almost £600 for just £199

GOLD OFFER
Urban Baits' offer worth £195 for just £80

SILVER OFFER
Choose between Dave Mallin Products' offer worth £168.50
or
one of Bountyhunter Publications' superb carp books for just £60

BRONZE OFFER
Choose between 14 issues of Big Carp for the price of 12 or 12 issues of Big Carp plus an item of clothing for just £55

Exclusive

Dinton Pastures Son of Triple Row

by Darren Blunt

Throwback London Docks Carp Part 2

by Bobby Coote

The Story So Far On Wraysbury 1 North Lake

by Adrian Wintle

No Name

by Adam Honeysett

The Burghfield Common

by Tom Stokes

Making Memories

by April Chiverton

A Month to Remember

by Jake Lund

Saturdays Only

by John Barnes

Cambridge Cracker

by Ryan McGregor

Overnighters on Bundy's Pit

by Lee Griffin

The Desirable Duo

by Wayne Iszatt

The Big Sutton

by Mike Bridges

The Caravan Park Linear

by Craig Banks

Big Carp Promotions

UK Bait Company
Lake Fishabil
Oak Lakes Fishery

Plus

Good Looking Carp – 2017-18 All Winners Vote
Catch Reports
Made In England
Good Looking Carp – September