Latest Issue - Issue 270, Volume 45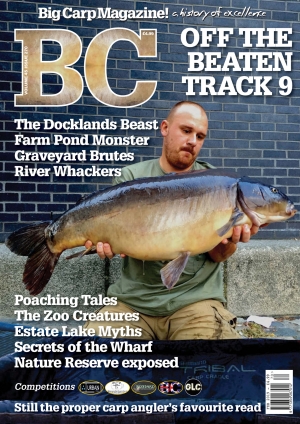 Off The Beaten Track 9

If it's an Off the Beaten Track issue, you all know by now what to expect – some guesting, some unusual venues and of course some incredible big, black, scaly carp that you have never seen before. Let me tell you now that you are not going to be disappointed; we've got all that and more.

Cover story this month is from Big Carp regular Bobby Coote, and what a carp it is – an ultra-rare Docklands leviathan, never before seen in print. Bobby has been writing about the Docks over the last few issues. His passion for the London waterways has seen him land some stunning creatures over the years, but this one will take some beating. Bobby is joined this issue by his pal Dan in a second article, this time an Inner London Park with an unknown stock, which only gives up its prizes to the dedicated and determined – proper urban angling at its best.

A more different set of scenery would be hard to imagine as Richie Leat decides to target a farmer's pond in which he spotted a huge mirror. Prepare to be blown away by this awesome animal. James Walford answered my request on Facebook for any poaching tales for this issue. As the title suggests, it was a case of a quick in-and-out, but with some very worthwhile results from this no-fishing bird lake! Steve Bliss contacted me to tell me of his fishing this autumn after catching a huge Cotswold mirror not far off 50 and then following it up with a 47 and a 44. I just couldn't wait to read his secret diary… God knows how many more unknown monsters this lake holds!

James Bromley tackles the tricky Cardiff Wharf to take a huge 40 mirror while Ryan Evans also tames some of those awesome Wharf specimens. Not for the fainthearted, Craig McEvoy tackles the Sanatorium Pool and nearby canal to catch some proper urban legends, whilst Marco Pinto and Dominic Garnett also catch some incredible canal beasts. Add to this lot a special Off The Beaten Track Made in England containing even more rare uncaught warriors.

Next month, it's a River Thames Special, and I've got an incredible issue for you. Ash Geden takes the cover spot with one of his three amazing Thames 40s and an article that takes the reader on a journey to one of the most unbelievable months' Thames fishing that this country has ever seen – a string of 20s and 30s topped off by a trio of awesome Thames monsters. Also this issue, the history of Nick Helleur's Thames record 50lb'er plus a whole host of Thames articles from anglers devoted to this mighty river and the secret jewels it holds. You will be a fool if you miss this fascinating issue. Why not sign up for a year's subscription? Save up to 50% of the cover price with our post free/free mags deal.

Happy New Year to all our readers… See you next issue.


This Issues Contents
Competitions

Four great competitions for you this month:

Urban Baits
Bossard
Big Carp
Bountyhunter

News & Reviews

Shockleader

What's happening in the carp scene



Tac-Tec

Latest product reviews
Reuben Heaton
Zerofit
Lifesystems

Subscriptions

Check out our incredible offers:

2 x PLATINUM OFFERS The Ultimate Subby worth almost £600 for just £199
GOLD OFFER
Urban Baits' offer worth £195 for just £80

SILVER OFFER
Choose between Dave Mallin Products' offer worth £168.50
or
one of Bountyhunter Publications' superb carp books for just £60

BRONZE OFFER
Choose between 14 issues of Big Carp for the price of 12 or 12 issues of Big Carp plus an item of clothing for just £55

Exclusive

The Small Dock

by Bobby Coote

Basingstoke Beauty

by Marco Pinto

Urban Legends

by Craig McEvoy

In And Out

by James Walford

On And Off The Beaten Track

by James Bromley

Hidden London Gems

by Bobby Coote

Cotswold Monsters

by Steve Bliss

Crooked Lines

by Dominic Garnett

The Farm Pond

by Richie Leat

Big Carp Promotions

Zerofit
UK Bait Company
Oak Lakes Fishery

Plus

Off The Beaten Track – Made In England
Good Looking Carp – October