Latest Issue - Issue 281, Volume 46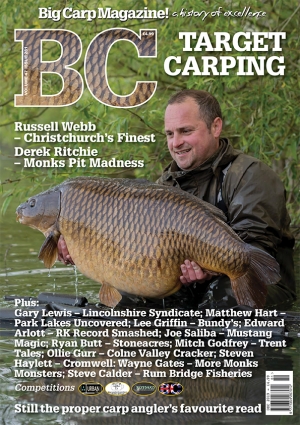 Target Carping

As we approach the end of a very tough year for businesses in the UK with an economy in decline and Brexit ever looming, I wonder just how long magazines of any genre, let alone carp fishing will continue. In the last year or so, who could have predicted Carp-Talk, Carp Fishing News, Crafty Carper, Angling Publications, David Hall, Advanced Carp and Carpology's Maximum Carp would be victims of a changing world? "How is Big Carp still going?" you might ask, when giants have fallen. Quite simple really – our subscribers! Not the news trade, not the tackle trade but those people willing to buy Big Carp on subscription from our website… They have saved BC. Without them, we would be gone.

Christmas is coming, and if you don't know what you want this year, please think of a subscription. If you like a magazine and don't want it to disappear from the shops forever, get yourself a subscription and keep YOUR magazine going for the years to come. Big Carp is the mag on the normal carper, not filled will product articles punting the latest and greatest by an ever-increasing army of wannabes, but written by the normal carper and read by the normal carper.

This month we have Target Carping, and we have a host of scaly monsters from around the country. Cover story is Russell Webb with Christchurch's Finest, Derek Ritchie and Monks Pit Madness, Gary Lewis reveals his Lincolnshire Syndicate lumps while Matthew Hart writes on Park Lakes Uncovered. Lee Griffin has been at Bundy's, Edward Arlott Smashes RK's Record and Joe Saliba conjures some Mustang Magic. Ryan Butt conquers Stoneacres, and there are some More Trent Tales from Mitch Godfrey. Ollie Gurr catches a Colne Valley Cracker and Steven Haylett cracks Cromwell. There are More Monks' Monsters from Wayne Gates and Steve Calder tackles Rum Bridge Fisheries while Ben Ormandy takes on Horseshoe. As you can see, there are targets from every conceivable type of venue.

Show season is upon us again, and I hope to see you at all the shows advertised in this issue.

Add to this all the latest carpy news and reviews, some great competitions to win Urban Bait, a holiday for two anglers at Lake Bossard, bundles of books and magazine subscriptions, and you can see why Big carp has been going for 30 years and is still the proper carper's favourite read.

You would be crazy to miss this one! Isn't it about time you got that subby? 30% Discount – Free Delivery – Early Delivery – Great Free Gift – Extra Free Mags – Free Urban Bait – Free Dave Mallin Bait – Free Books – Free Clothing – Crazy not to! www.bigcarpmagazine.co.uk/subscriptions.html.

A subscription can reduce the cost of a magazine by 50%, they are delivered to your door so no unnecessary trips to the shops only to find they are sold out! You get them a week before the newsagents and you get a free gift. What's to think about other than what gift you want – a book, extra mags, free bait or BC clothing. Take a look here: www.bigcarpmagazine.co.uk/subscriptions.html

There are lots of ways to buy Big Carp magazine. Big Carp is available from WH Smiths, newsagents, Tesco, Sainsburys, garages, tackle shops, direct from us and by subscription (subscription is the cheapest by far and post free). Stockists – find the stockists near you at http://seymour.magzene.com/

See you next month,

Rob.


This Issues Contents
Competitions

FOUR great competitions for you this month:

Urban Baits – Your chance to win a fantastic bait offer from Urban Baits.
Bossard – Win a holiday for two at Lake Bossard in France.
Big Carp – Win £480 worth of Big Carp magazines with a five-year subscription.
Bountyhunter Publications – Win a selection of Bountyhunter books worth £540.

News & Reviews

Shockleader

What's happening in the carp scene



Tac-Tec

Latest product reviews:

Fishing Sim World
Rod Hutchinson
Reuben Heaton
Storm
Fishing Mania

Subscriptions

Check out our incredible subscription offers:

2 x PLATINUM OFFERS The Ultimate Subby worth almost £600 for just £199 GOLD OFFER Urban Baits' offer worth £195 for just £80

SILVER OFFER Choose between Dave Mallin Products' offer worth £168.50 or one of Bountyhunter Publications' superb carp books for just £60

BRONZE OFFER Choose between 14 issues of Big Carp for the price of 12 or 12 issues of Big Carp plus an item of clothing for just £55

Exclusive

Linch Hillís Christchurch Lake

by Russell Webb

Bundyís Pit

by Lee Griffin

Stoneacres 42lb 8oz Common

by Ryan Butt

Trent Tales

by Mitch Godfrey

Mustang Lake

by Joe Saliba

RK Leisure Complex Record

by Edward Arlott

Horseshoe Lake

by Ben Ormandy

My Local Lincoln Syndicate Water

by Gary Lewis

Cromwell 41lb 8oz Mirror Zig

by Steven Haylett

Park Lakes

by Matthew Hart

Monks Lakes

by Wayne Gates

Rum Bridge Fisheries

by Steve Calder

Big Carp Promotions