Latest Issue - Issue 262, Volume 44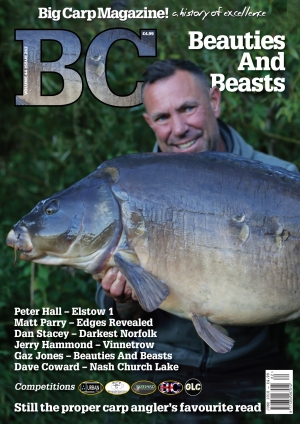 BEAUTIES AND BEASTS

As spring finally breaks through one of the worst winters on record (with record snowfall, record rainfall and my bivvy resembling a blinking waterfall), I am bringing you some sunshine in the shape of this month's banging Big Carp with a lineup fine-tuned to get the juices flowing and you grabbing the rods and heading bankside.

The cover story is about an angler who has graced our pages for almost 30 years with his consistent catches and unweaning enthusiasm, Jerry Hammond. His 'Carp Addict' pieces are the star of recent copies of Free Line, and this month we have the exclusive tale of his latest pursuit of the largest. Years of hard work and dedication came to fruition recently when Vinnie's largest resident finally went over the cord at a truly epic weight! Adding this most sought after resident made Jerry's portfolio even more impressive. Massive congratulations from all at Big Carp and Free Line magazines.

Next up to the plate is Dan Stacey, another BC regular and front cover star of Free Line Issue 6. Dan has been targeting deepest, darkest Norfolk and a couple of off the beaten track venues too, which Dan has promised to give us the story of soon. This tale involves some of the best looking carp this county has to offer, most of which are rarely, if ever, seen in print.

Gaz Jones is back, having featured only a few months ago. Gaz is undoubtedly a very consistent catcher of quality carp, moving on to new and challenging venues in his search for beauties and beasts.

Peter Hall, the Elstow slayer, takes us to Elstow 1 this month, a very different proposition to his previous pieces on Elstow 2 last year. Elstow is a true history venue, stocked by the late Len Gurd and a true testament to this farsighted pioneer of many waters in the UK – true thoroughbreds every one, rarely written about and another great exclusive for BC. Matt Parry needs no introduction; he's one of the best thinking anglers in the UK. Absent from Big Carp for over a decade, Matt returns with his slant on edges, advanced watercraft and more.

Finally we have Dave Coward with the first of two recent submissions, and this month it's Nash's Church Lake followed soon by Grenvilles. It's an interesting session piece on a water not previously featured in BC but one with a history of big fish, many of which came from a small lake in Hook, Hampshire. Add to this lot all the latest news, tackle reviews, Good Looking Carp of the Month, Made In England, Catch Reports, Competitions and subscription deals. Coming soon: "Old School Special" to celebrate 30 years in carp fishing publications – not to be missed. Finally both Volume 3 and 4 of A History of Yateley are now available on this website.


This Issues Contents
Competitions

FOUR great competitions for you this month:

Urban Baits
Bossard
Bountyhunter
Big Carp

News & Reviews

Shockleader

What's happening in the carp scene

Tac-Tec

Latest product reviews

Varta
Nutrabaits
Colemans

Subscriptions

Check out our incredible offers

TWO PLATINUM OFFERS The Ultimate Subby worth almost £600 for just £199

GOLD OFFER
Urban Baits' offer worth £195 for just £80

SILVER OFFER
Choose between Dave Mallin Products' offer worth £168.50
or
one of Bountyhunter Publications' superb carp books for just £60

BRONZE OFFER
Choose between 14 issues of Big Carp for the price of 12 or 12 issues of Big Carp plus an item of clothing for just £55

Exclusive

The Half Lin

by Jerry Hammond

Elstow Pit 1

by Pete Hall

Identify, Adapt, Amend and Overcome

by Matt Parry

A Year in Deepest, Darkest Norfolk

by Dan Stacey

Take Me To The Church

by Dave Coward

A Change of Scenery

by Gaz Jones

Big Carp Promotions

Oak Lakes Fishery
UK Bait Company
Horcott Lakes
QC Baits

Plus

Good Looking
Carp – March
Made In England