Latest Issue - Issue 272, Volume 45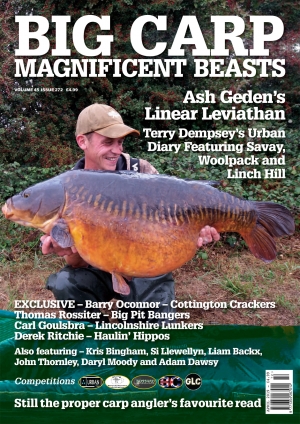 Magnificent Beasts

This month we have a selection of articles aimed at firing everyone up ready for our spring campaigns only a few short weeks away. Once those clocks go forward at the end of March, we carp anglers once again head lakeside in our thousands. Not that we can complain about the winter we have just had. As I write this in mid-February, strong southwesterlies are forecast for the weekend, and with nighttime temperatures staying well above freezing, the chance of a winter carp is well on the cards.

The cover story this month is part 2 of Ash Geden's history-making trio of Thames forties, and what a magnificent beast this huge linear is! Our Thames Special last month was incredibly popular, and with the closed season looming, time has all but run out for a river carp this side of June 16th. I will be publishing another river special, this time featuring a dozen of the UK's top river venues other than the Thames, so watch out for another couple of fifties so far unpublished!

Next up there's a great exclusive from my old mate Terry Dempsey as we catch up with what Tel has been up to these past months, and let me tell you, he's been 'avin 'em once again – magnificent beasts from Savay, Woolpack and some stunners from Linch Hill too… There's no stopping this talented fish catcher. Also this month, we have the return of Big Carp regulars, father and son team Barry and Ben Oconnor, with the first of a series of articles on Cottington Lakes, and it goes without saying that these carp are special. No wonder Cottington always rates so highly with our readers. Derek The Don is back too this month; just feast your eyes on his latest array of hippos.

Carl Goulesbra can catch 'em too – some of Lincolnshire's finest – so don't miss his great piece on tackling this 200-acre pit with its obvious problems. Speaking of big pits, check out the article from Thomas Rossiter for a stunning big fully. Kris Bingham makes his debut in this month's issue with a great story entitled More Tackle Box and less Xbox, a dilemma that many dads must be facing reading this, me included… Oh, how I wish my son Max had the passion for carp fishing that he does for Fortnite! Fathers take note – it looks like Kris has cracked it!

Si Llewellyn's article, The Petting Zoo, really has me reaching for the rods – quality fish and a quality venue. Finally, there are articles from John Thornley who caught the incredible Lock Stock at a huge weight, Daryl Moody with a very special old one from his local club water, Adam Dawsy with a truly magnificent beast and Liam Backx with some Farlows crackers!

There's loads of other great stuff this month too, including all the carpy news, reviews, competitions to win holidays, Urban Bait, books and magazines.

I'll be at the last three shows of the year if you want to come and say hi and pick up a book or a subby – Manchester on the 23-24th February, The Big One at Farnborough on the 23-24th March and the NEW big One at Stoneleigh on the 13-14th April.

Next month it's another Old School Special with a fantastic lineup from the good old days with articles on how we still used to catch carp before the hair rig and boilies! Also next month, there are the Big Carp Top 10 awards for 2018-2019. Why not get yourself a subscription and save some money? See this month's deals on pages 52 and 53.

See you next month… Roll on the spring.


This Issues Contents
Competitions

Four great competitions for you this month:

Bossard
Urban Baits
Bountyhunter
Big Carp

News & Reviews

Shockleader

What's happening in the carp scene



Tac-Tec

Latest product reviews

Storm
Bait-Tech
Hot Spot Design
Nutrabaits

Subscriptions

Check out our incredible offers:


2 x PLATINUM OFFERS The Ultimate Subby worth almost £600 for just £199

GOLD OFFER Urban Baits' offer worth £195 for just £80

SILVER OFFER Choose between Dave Mallin Products' offer worth £168.50 or one of Bountyhunter Publications' superb carp books for just £60

BRONZE OFFER Choose between 14 issues of Big Carp for the price of 12 or 12 issues of Big Carp plus an item of clothing for just £55



Exclusive

MAGNIFICENT BEASTS

The Petting Zoo

by Si Llewellyn

More Tackle Box, Less Xbox

by Kris Bingham

Special Old One From A Club Water

by Daryl Moody

Diary of The Urban Myth

by Rob Maylin chats with Terry Dempsey

A Date With Christine

by Barry Oconnor

The Big Pit

by Thomas Rossiter

Chasing Dreams On The River Thames - Part 2

by Ash Geden

Farlows Session

by Liam Backx

Lincolnshire's Finest

by Carl Goulsbra

The Simple Approach

by Adam Dawsy

Lock, Stock and Two Smoking Barrelled Hookbaits

by John Thornley

Big Carp Promotions

UK Bait Company
Oak Lakes Fishery

Plus

Made In England
Good Looking Carp – January