Latest Issue - Issue 266, Volume 44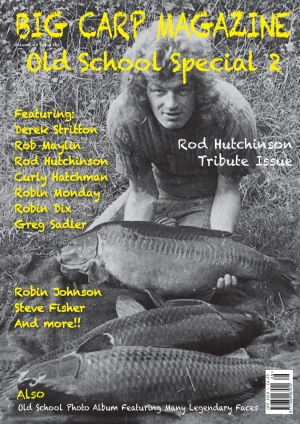 This is the second of our Old School Carping Issues of Big Carp. I was quite astounded by the reaction to the first one three months ago. We had our best sales figures for over five years, and it just went to show the amount of interest there was in stories associated to the good old days. Everyone asked for more, so I began contacting many of my old friends who had not written in the first one, and a few that had, but I knew they had lots more great tales to tell, and thankfully everyone said yes.

However, just as the first few stories came in, Rod Hutchinson sadly passed away in June. I knew he had not been well for a while but had no idea it was so serious. My thoughts immediately went out to his family and friends, as I knew he had grandchildren, as do I, and how devastated they would be. I decided at this point to dedicate Old School 2 to my old fishing buddy Rod and to write a piece myself about our friendship.

The social networks flooded with tributes the night he died and for many days after, and I have selected a few posts for this tribute to Rod. I'm sure no one will mind, as Rod was one of the most well respected and popular guys I have ever met. I have honestly never heard a bad word said about him in the 40 years I have known him, and you can't say that about many people!

Rod was a pioneer, an inventor, a great angler and writer, a guester and was as keen a carper as you could ever meet. His contribution to carp fishing was huge, mainly through his writings in both magazines and books – books that I have read dozens of times. He was a great writer as I say, but more than that, he had a unique gift of being able to entertain the reader with his humorous tales of life in the Colne Valley. I was very fortunate to have known Rod, to have fished with him, listened to his stories and to be able to call him a friend. But in all honesty, it was more than that – he was my hero, and my one regret is that I probably never told him.

Contributions from Derek Stritton, Rob Maylin, Rod Hutchinson, Robin Monday, Robin Dix, Curly Hatchman, Robin Johnson, Greg Sadler, Steve Fisher, plus another old school scrapbook of historic photos and more, make this a souvenir issue every carp angler young or old will want to keep and read over again.

Also this month the latest carpy news, product reviews and competitions including 'Good Looking Carp Of The Month ' plus the very latest adverts from the best companies around.

Next month we have a very special Off The Beaten Track issue, and I am very pleased to announce the return of Sam Jeffries whose tales of the Inner London carp scene enthralled us two years ago. Sam has been catching some more of these unnamed old warriors and some incredible carp from a very different venue. Brian Ingram also joins us this month with his awesome tale of a pot of northern gold from an under the radar venue that held some hidden treasures. Dan Stacey returns this month, and he has been fishing on the dark side too and caught an absolute monster of 47lbs, which he exclusively reveals to the world this issue. Jack Thomson's 'Forbidden Routes' piece in our last OTBT issue was very well received, and Jack is back this month with part two of his incredible guesting series. We also have a very special new series starting this month staged around fishing the Docklands. Bobby Jay Coote has been quietly fishing the Docklands for twenty years, never revealing the very special carp he was catching, until now! Exclusively in BC every month, his story will unfold.

There are a couple of other tales in next month's issue that for now I must keep under wraps – tales of some ultra-huge carp that will take your breath away. I have the photos but have been asked not to reveal them yet!!

DON'T MISS NEXT MONTH'S INCREDIBLE ISSUE – MASSIVE CARP, ALL WITH NO NAMES!!


This Issues Contents
Competitions

Three great competitions for you this month:

Bossard
Urban Baits
Bountyhunter

News & Reviews

Shockleader

What's happening in the carp scene

Tac-Tec

Latest product reviews
Bait-Tech
Nutrabaits

Subscriptions

Check out our incredible offers

2 x PLATINUM OFFERS The Ultimate Subby worth almost £600 for just £199

GOLD OFFER
Urban Baits' offer worth £195 for just £80

SILVER OFFER
Choose between Dave Mallin Products' offer worth £168.50
or
one of Bountyhunter Publications' superb carp books for just £60

BRONZE OFFER
Choose between 14 issues of Big Carp for the price of 12 or 12 issues of Big Carp plus an item of clothing for just £55

Exclusive

More From The Mamory Bank! Random Thoughts

by Derek Stritton

Old School Reflections

by Robin Dix

Getting Away With It

by Greg Sadler

Old School Carping

by Robin Monday

If Only Time Could Stand Still

by Robin Johnson

Memories Of Rod

by Various

A Tribute to the Great Rod Hutchinson by Rob Maylin and friends

Donít Time Fly

by Steve Fisher

Thinking Tackle

by Rod Hutchinson

Big Carp Promotions

UK Bait Company
Lake Fishabil
DT Baits
Oak Lakes Fishery

Plus

Old School Photo Album
Good Looking Carp – July